The Red Sea has relatively low amounts of floating plastic debris in its surface waters due to fewer sources or faster removal.
Researchers are mapping global patterns of marine plastic pollution as alarm grows over floating rubbish. A team led by marine scientist Carlos Duarte from KAUST shows that the level of plastic debris in the Red Sea is relatively low.
Samples of floating plastic rubbish were collected by the team from 120 sites along 1500km of shoreline on the eastern margin of the Red Sea during voyages in 2016-2017. The debris was captured in plankton nets dragged slowly just below the sea surface and the fragments were then painstakingly sorted into material type and size.

Three-quarters of the collected rubbish was rigid fragments of broken objects. Plastic film, such as bags or wrapping, made up 17% percent, but there were only small amounts of fishing lines or nets (6%) and foam (4%).
The relatively low levels of floating plastic in the Red Sea may either be due to there being fewer sources of rubbish or its faster removal, explains doctoral student, Cecilia Martin. Not much plastic comes from the land because this coastline has few of the usual polluting contributors.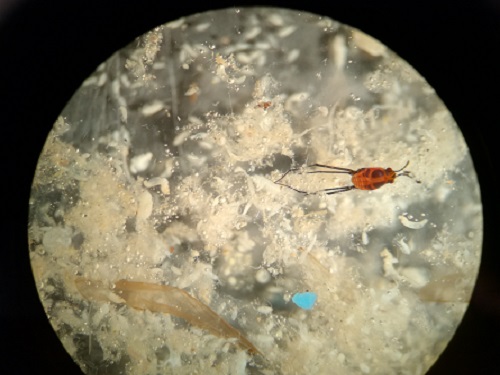 A raw sample before sorting, showing one piece of blue plastic. © 2017 Cecilia Martin
"Usually the main source of plastic in the sea tends to be litter and mismanaged waste," says Martin. "But on this coastline, the only large human settlement is Jeddah, with a population of 2.8 million people, and little tourism, so there are few people with the opportunity to litter." Similarly, rivers globally provide 10-50% of discarded oceanic plastic, but because the Red Sea catchment has no permanent rivers, their contribution is negligible.

"Instead, the winds and a few storms are most probably the main sources of plastic," says Martin. "This is reflected in our findings of proportionally higher amounts of plastic films compared to global trends."
-

The plankton nets were dragged slowly just below the sea surface to capture floating plastics.
© 2017 Cecilia Martin